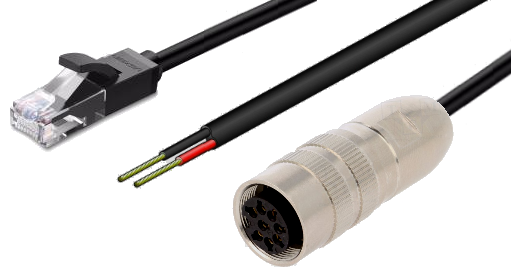 Communication protocol

Ethernet

Last spectrometer

2017T043.024


Voltage protection

MDC-300: Undervoltage and overvoltage (18V)

MDC-301: None

Connector A

RJ-45

Connector B

None (flying leads)

Connector C

Lumberg 0322-08


Dust caps

Lumberg 0381, Lumberg 038199 (no chain) or Lumberg 038799 (plastic)
The MDC-300 communication cable can be used to connect a spectrometer directly to both a computer and a power source. Note that some cables (labelled MDC-300) are equipped with an under- and overvoltage protection circuit. This circuit protects the hardware against voltages which are too high (up to 60V) and against reverse polarity issues. The MDC-301 cable does not have any voltage protection. Aside from the label, the MDC-300 and MDC-301 cables have identical appearance.
Variants
| | |
| --- | --- |
| MDC-300 | Includes electronics which protect the spectrometer against voltages which are too low (including negative voltages caused by reversed polarity) and voltages which are too high. |
| MDC-301 | Does not include any voltage protection. |
Connection scheme
The connection scheme for the MDC-300 cable is shown below. The MDC-301 cable has the same connection scheme, but is lacking the voltage protection circuit. The voltage protection circuit in the cable prevents the power lines from being inspected using a multimeter.

Pin numbering
RJ-45
The RJ-45 connector follows the T-568B standard.

Lumberg 0322-08
Note: Pin numbering as seen from the solder side.
Pin description (Lumberg connector)
| # | Description | Wire color |
| --- | --- | --- |
| 1 | Rx+ | Orange / white |
| 2 | Rx- | Orange |
| 3 | Tx+ | Green / white |
| 4 | Power | Blue |
| 5 | Power | Blue / white |
| 6 | Tx- | Green |
| 7 | Ground | Brown / white |
| 8 | Ground | Brown |
Datasheets